Smuggler had 30 drugs bags inside body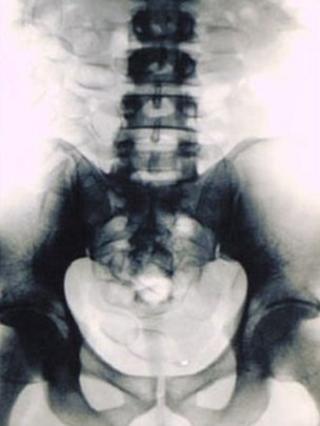 A woman who hid £45,000 worth of heroin and cocaine inside her body to smuggle them through Belfast has been jailed for more than three years.
Salmato Djalo, 31, from Guinea Bissau in west Africa, pleaded guilty to two charges of drug smuggling.
She was challenged by Border Force officers after arriving on a flight at Belfast International Airport from Portugal on 29 September 2011.
An x-ray revealed 30 packages of the drugs concealed internally.
She was jailed for three years and three months on each charge at Antrim Crown Court on Tuesday.
The sentences will run concurrently and she must serve a minimum of 19 months with the remainder on licence.
John Spence of Border Force said their officers were on "constant alert".
"The concealment technique used by this individual shows the lengths to which some people will go in an attempt to avoid detection by our officers," he said.
"This drugs seizure shows the robust controls we have in place at our ports and airports to safeguard the UK and keep drugs of the street of our towns and cities."