Students protest against EMA cuts at Belfast City Hall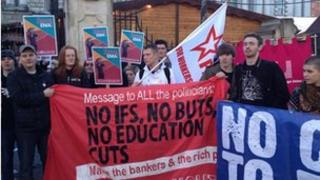 Students across Northern Ireland have carried out protest against the proposed cuts in the Education Maintenance Allowance (EMA).
The action coincides with the National Union of Students demonstrations in London.
Students have also been contacting MLAs to express their opposition to the cuts proposed in the EMA consultation.
EMA is currently available to 16-19 year olds in full-time education or training.
It offers up to £30 a week to pupils from low income families and currently costs the public purse £29m a year.
Under the current scheme, qualifying students aged from 16 to 19 receive payments of either £10, £20 or £30 a week.
'Passionate young people'
Twenty five thousand teenagers, a quarter of the age group, currently claim the EMA in Northern Ireland.
Some are also entitled to bonuses for finishing their courses in school or further education college.
However, research has shown the money is a deciding factor for only a third of students.
Annagh Rafferty, 18, was one of those who attended the protest. She said she needed the EMA to support her family: "I support my mum with the house, she's a single parent and it's not easy. I'm 18 now so I have that responsibility to support the house."
Another student at the rally was Niamh Bonner, 17, she said she needed the EMA as there was no part-time work available, "I can't get a job at the minute. I've tried and I just can't get one."
Some students said they would not be able to go to school with the money.
Shaneen O'Reilly, 18, said she used almost all of her allowance on travelling to and from school.
"I wouldn't be able to get to school without it. I live quite far away from the school and have to travel in. I get £60 every two weeks and almost £50 of it is spent on travel," she said.
Steven Agnew, Green Party MLA, addressed the gathered crowd. He said it was great to see the young people at the rally.
"We should support our young people who want to have their voices heard," he said.
"Politicians talk about apathetic young people, who don't care. That's not what I've seen today, I've seen very passionate young people who care about their future."
'Lost generation'
Adrianne Peltz, president of the NUS-USI, said ministers must rethink their proposals, "as they will have a massive impact on young people's futures".
"Students and young people are facing very difficult times already, and to cut EMA to the level outlined in the recent consultation would be a body blow to this and future generations here," she said.
"For a government minister with their big salary and chauffeur driven ministerial car, a £30 a week payment may seem like very little, but for many students it's the difference between being able to study or not.
"If implemented, these proposed cuts in EMA will potentially increase the likelihood of there being a lost generation of young people."
Despite a low turn out of about 100 people organisers said the rally was not a failure. Neil Moore, the president of Belfast Met SU said it was only the beginning and further action could include a "mass walk out of students from schools across Northern Ireland."
During the action students visited MLAs offices and contacted them via Twitter to express their opinions.
The union said the government should be investing in young people in order to boost the economy in future generations.
A public consultation about the changes to the allowance closed earlier this month.