Ash disease confirmed at eleven Northern Ireland sites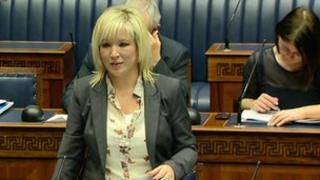 Ash dieback disease has been confirmed at a further six Northern Ireland sites, the agriculture minister has said.
It brings the total number of confirmed cases to 11.
The Chalara ash dieback disease, caused by the fungus Chalara fraxinea, was found in imported ash saplings in five sites over counties Down and Antrim earlier this month.
National Trust land at Runkerry on the north coast was one area affected.
Minister Michelle O'Neill was making a statement to the Northern Ireland Assembly on a recent North South Ministerial Council (NSMC) meeting.
She said ministers in Northern Ireland and in the Irish Republic had a co-ordinated approach to the outbreak.
Mrs O'Neill said 4,500 ash saplings had already been destroyed and said all the confirmed sites had been recently planted and had come from the one import.
She added compensation had not been discussed at the meeting.