Woman injured in five-vehicle pile-up on M3 in Belfast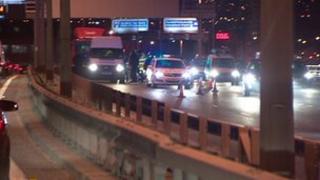 A woman has been taken to hospital following a a five-vehicle pile-up on the Lagan Bridge in east Belfast.
Both Bangor-bound carriageways towards the Sydenham by-pass were blocked for several hours on Wednesday.
However, the road has now re-opened. It is understood the woman does not have life-threatening injuries.
The collision caused long delays for traffic during the rush hour.