Martin Stokes cleared of murder of John Mongan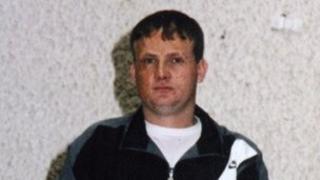 There was uproar in a Belfast court as a Londonderry teenager was cleared, in a second trial, of involvement in the murder of Belfast man John Mongan.
Mr Mongan was hacked to death in front of his pregnant wife and young daughter, during an attack by three men in the early hours of 7 February 2008.
Martin Stokes was 16 when originally convicted of the killing along with his two uncles in December 2009.
Relatives of the murdered man lashed out at the decision in the courtroom.
Police and security staff were forced to keep the two families and their supporters apart, while several women were forced, screaming and shouting, from the public gallery of the Crown Court.
Escorted
As the forewoman of the jury of six men and six women, who had taken just over two hours to reach their unanimous 'not guilty' decision, announced their verdict, Stokes turned to family and friends, punching the air and gave a clenched fisted victory salute as he shouted out: "Yes".
Still in the glass-panelled dock, he turned to the jury: "Thank you, thank you" he repeatedly shouted, adding: "Thank you for proving my innocence".
Then, as he was cursed from the public gallery, he turned once more to the jury telling them: "That's what you have to deal with".
Later Stokes, from the Glendale Road, Derry, had to be escorted from court by several police officers.
Stokes, who made no comment as he left flanked by the police guard, was originally convicted of Mr Mongan's murder with his uncles 37-year-old Christopher Stokes and Edward Stokes (41), but the Court of Appeal later ordered a re-trial in his case.
Mr Mongan was slain in the bedroom of his home in Fallswater Street in west Belfast, in front of his seven-year-old daughter and wife Julia, who was due to give birth the following day.
During this trial, which started on 6 November, the court heard that Mrs Mongan claimed that she recognised the voice of Stokes, who is her cousin.
Martin Stokes said he was asleep on a sofa in his sister's home at the time of the attack, which arose because of so-called "bad blood" between Mr Mongan and the Stokes family.