Dissident republican protest costs £1m in prison repairs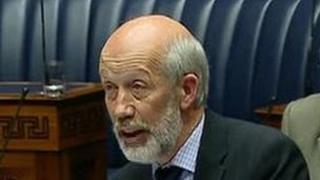 The justice minister David Ford says more than £1m has been spent repairing damage caused to prisons by the so called dissident republican dirty protest over the last three years.
The figure was given in a written answer to the DUP's Alex Easton.
Mr Ford said the total for the three years of the protest is £1,122,720.
For the year to date from April it is £380,200. For the year to April 2012 it was £435,100. For the previous year it was £307,420.
The prison service has also spent £446,913 on paying external companies to clean cells in Roe House at Maghaberry prison up October 2012.
That figure was revealed in a written answer to Pat Ramsey last month. The answer also showed that £55,738 was spent on an absorbent compound used to counter the effects of the dirty protest.