Belfast council may pay for riot car damage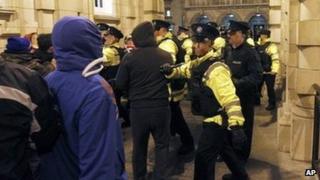 Belfast City Council is considering picking up the tab for damage to councillors cars during the riot at the City Hall.
Loyalists broke into the courtyard of the building after a protest about union flags turned violent.
Three cars were damaged after protesters forced open the back gate.
A council spokesperson said that they were "evaluating the damage caused to the fabric of the building and to several cars".
"This may involve the council paying for repairs to councillors' cars in the short-term and may also involve the submission of criminal damage claims," they said.
About 1,000 loyalists protested outside the City Hall during a debate on the union flag.
Nationalists wanted the flag taken down altogether, but in the end voted on a compromise from the Alliance Party that it would fly on up to 20 designated days.
The vote was 29 to 21, with unionists accusing the Sinn Fein, the SDLP and Alliance of attacking their cultural identity.
Trouble started after news of the vote was communicated to the protesters. Some forced their way into the back yard of the City Hall and clashed with police.
Golf balls, bottles and crush fencing was thrown at police officers outside. In total 18 people were injured, including 15 police officers.