Ulster Unionist Executive to hear Basil McCrea call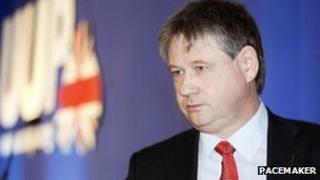 The Ulster Unionist Executive is expected to hear calls for MLA Basil McCrea to be disciplined later.
It is over his support for the Alliance position on the flying of the Union flag at the City Hall.
The UUP's three Belfast councillors have said failure to discipline Mr McCrea could lead to them reconsidering their position within the party.
Mr McCrea was interviewed on BBC Radio Ulster's Nolan Show on Friday morning.
He said the flying of the union flag is a matter for Belfast council but agrees it should fly only on designated days.
When asked if he was considering joining the Alliance Party, he declined to answer.
Council veterans David Browne, Jim Rodgers and Bob Stoker believe Mr McCrea, a Lagan Valley MLA, has contradicted party leader Mike Nesbitt and is not upholding the party's constitution in support of the union.
On Saturday, Mr Nesbitt said a range of issues would be discussed at the meeting.
"I would imagine some people will want to discuss flags and some people will want to discuss Basil McCrea's failure on the radio yesterday to say that he is not considering joining the Alliance Party," he said.
"There are a lot of things to discuss. I look forward to a discussion at the executive which is the proper place to initiate that debate."
Mr Stoker said he and his council colleagues are seriously considering their position and want the party to deal with Basil McCrea as a matter of urgency.
Another source told the BBC that the councillors felt others had been dealt with ruthlessly while Mr McCea was an unguided missile who had been let off.
In a statement the UUP said: "Mike Nesbitt made the Ulster Unionist party's position absolutely clear on Thursday.
"There is a fundamental issue regarding the chipping away of people's identity as British citizens.
"No doubt Basil McCrea's interview will be brought up when the party executive meet tomorrow."
'Cultural identity'
Nationalists at Belfast City Council had wanted the union flag taken down altogether, but in the end voted on a compromise from the Alliance party that it would fly on designated days.
The vote was 29 to 21, with unionists accusing Sinn Fein, the SDLP and Alliance of attacking their cultural identity.
There have been loyalist protests and disturbances since then.