Belfast flag protests: McGuinness says violence 'orchestrated'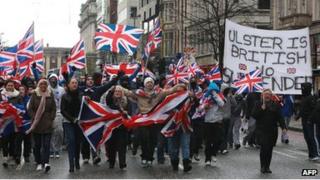 Deputy First Minister Martin McGuinness has said recent violence over the flying of the union flag at Belfast City Hall was orchestrated.
He told a special session of the NI Assembly loyalist paramilitaries were involved in the trouble.
He added that political parties must play a central part in healing divisions not raising tensions.
The session was an opportunity for a "much needed sense of calm" following last week's "madness", he said.
Mr McGuinness said the trouble had involved both the UVF and the UDA.
Members debated a joint motion brought by Mr McGuinness and First Minister Peter Robinson condemning attacks on Alliance Party politicians' homes and offices.
The violence followed loyalist protests over Belfast City Council's move to fly the union flag on designated days only.
Up to 28 police officers have been injured in rioting and, since Friday night, 19 people have been charged.
First Minister Peter Robinson said the language of the motion recognised that people had the right to peaceful and democratic protests, but had asked for a suspension of protests in light of the violence.
"People have no right to attack elected representatives just because they do not share the same views," he said.
Ulster Unionist leader Mike Nesbitt said: "Anyone who attacks a police officer, an elected politician, or individual fails to understand the values that encapsulate the union flag.
"In doing what they did the rioters lost the very argument they were trying to promote."
SDLP leader Alasdair McDonnell said politicians needed to do more "than just condemn".
David Ford Alliance leader said the attacks directed towards the party were "horrific and frightening".
"An immediate priority must be to find a means to accommodate different identities through a shared approach to symbols, even if that is perceived by some, as meddling with identity," he said.
David McNarry of the UK Independence Party said the motion fell short "of expressing the full rigour of unionist anger aimed at those who combined to take down the union flag".
The TUV leader Jim Allister strongly condemned the violence but accused Sinn Fein of using culture "as a new theatre of war."
The motion was passed uncontested.
Earlier, Progressive Unionist Party leader Billy Hutchinson denied that loyalist paramilitaries orchestrated violence.
On Saturday, Assistant Chief Constable Will Kerr said: "Loyalist paramilitary groups are now actively involved in orchestrating this disorder."
He said members of both the Ulster Defence Association (UDA) and Ulster Volunteer Force (UVF) were "involved in the violence, we're now seeing senior members actively involved in orchestrating the violence."
But Mr Hutchinson told BBC NI's Good Morning Ulster programme on Monday that he did not accept what police were saying.
"We do not accept this. The UVF and the Red Hand (Commando) are getting the blame for this," he said.
"The PUP strategy is around making sure that this is unarmed resistance. People are disaffected, frustrated and angry. People are entitled to demonstrate but they should do it peacefully and in a dignified way."