Ballinderry Mussel project get lottery grant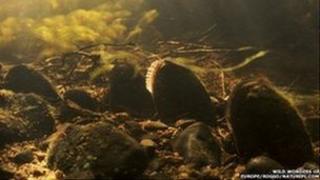 A project to help prevent the extinction of a type of freshwater mussel has been given nearly a third of a million pounds by the Heritage Lottery Fund.
The freshwater pearl mussel is found in parts of the Upper Ballinderry river.
A total of £332,100 will fund a three year project to conserve the species.
It is thought to be one of Ireland's oldest species and one of the longest living invertebrates on Earth, frequently living for over 150 years.
A sanctuary site for the fresh water pearl mussels will be created on the river to encourage the natural breeding of the mussels in the wild, by bringing together wild adult mussels currently unable to breed due to their isolation and hatchery reared juvenile mussels.
Paul Mullan, head of Heritage Lottery Fund, said the project had the potential to deliver a range of benefits for the species and for the wider ecology of the river.