Portrush man 'threatened to burn house'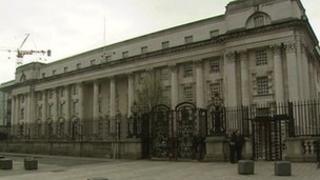 A Portrush man who allegedly threatened to burn his partner's house down with her and their two children in it has been refused bail.
Paul Thompson, 21, from Ballywillan Crescent, denies common assault, making a threat to kill, criminal damage, possessing a weapon and threatening to destroy property to endanger life.
He was arrested at his girlfriend's Coleraine home on 27 December.
The court was told police found a samurai sword in his bag.
Refusing to release Mr Thompson on bail, Mr Justice Gillen told Belfast High Court that domestic violence was an "absolute cancer in this society" and he was "profoundly concerned" the alleged incident happened in front of the couple's children who are just three years and 11 weeks old respectively.
"It is absolutely appalling that this kind of behaviour should be carried on in the presence of these children which could cause long-lasting, if not permanent damage to them," declared the judge.
Earlier he heard prosecution lawyer Kate McKay allege that just after 23:00 GMT on 27 December last year, police were called to the Mr Thompson's partner's home, finding her in a "tearful" state with red marks on her wrists.
She claimed Mr Thompson, who is the father of the two children, had assaulted her and "threatened to burn the house down with her and the children inside".
During police questioning, Mr Thompson, denied making any threats or assaulting his partner, claiming instead the red marks were as a result of him having to restrain her from slapping him.
Refusing the bail application however, Mr Justice Gillen said: "I think there's every chance that this man would return and behave in this way again... there is a real risk of repetition."