Little improvement in Northern Ireland car sales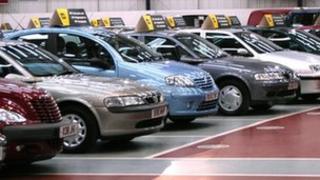 Car sales, an important economic indicator, remained flat in Northern Ireland last year, growing less than in any other UK region.
The figures suggest the economy remains weak and lags well behind the other parts of the UK.
The number of cars registered in 2012 was up by just 0.6% on 2011, compared to 5% growth in England, a 7% rise in Wales, and a 9% jump in Scotland.
Sales are down one third from 2007 when almost 69,000 cars were registered.
The figures were compiled by the Society of Motor Manufacturers and Traders.
In total 47,519 cars were registered in Northern Ireland.
The Ford Fiesta is now Northern Ireland's most popular car with 2,260 registered - climbing from fourth place in 2007 when the number one car was the Renault Megane.