Pipe bomb handed in to Belfast community office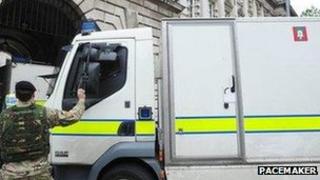 A man has carried a pipe bomb into the offices of a Belfast-based community justice group.
Army bomb disposal teams were called to the Jasmine End office of Community Restorative Justice Ireland (CRJI) in Twinbrook on Tuesday after a suspicious object was handed in.
They later confirmed that it was a viable device.
Harry Maguire of CRJI said the man had found the bomb and been concerned about the danger it posed to children.
"A member of the public found what he believed to be a dangerous device. He was worried about the risk to children and he decided to bring it to our local office in Jasmine End," he said.
"The office immediately contacted the police because of the dangerous nature of this device.
"Our only concern in this incident has been to keep children and local people safe from what is a potentially lethal device and ensure that no one gets hurt."
He said that he understood that the device had been found in the Twinbrook estate and said that anyone who found a suspicious object should call the police.