Aloysius Hackett: Murder accused at father's funeral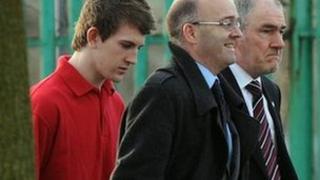 The funeral has taken place of a County Tyrone man whose teenage son is charged with his murder.
Aloysius Hackett, 60, was found dead at the family home in Augher, County Tyrone, on Friday.
His son Sean, a well-known Gaelic football player, is accused of shooting him dead.
He was granted compassionate bail to attend his father's funeral at St Macartan's Church outside Augher on Wednesday.
Aloysius Hackett was a former chairman of St Macartan's GAA club in the town.
Compassionate bail for Wednesday's funeral was granted at Omagh Magistrates Court in accordance with his family's wishes, but under strict conditions.
Mr Hackett was not allowed access to a mobile phone or the internet while travelling to and from the funeral and was only permitted to speak to two chaperones, including a solicitor and GAA manager Mickey Harte.
He was not allowed to speak to immediate family members.
After the church service, his father is due to be buried in the adjoining cemetery.