Documentary follows Michaela McAreavey's family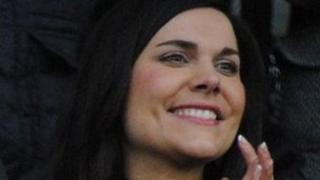 An Irish language documentary following Michaela McAreavey's eldest brother Mark as he approaches the second anniversary of his sister's death is to be shown on BBC2 on Sunday.
Mrs McAreavey was murdered in the former Legends Hotel in Mauritius in 2011 while she was on honeymoon.
Two hotel workers - Sandip Moneea and Avinash Treebhoowoon - were cleared of murder in a trial which ended in July.
Mark Harte travelled to Mauritius to bring his sister home and then returned to the tropical island last year for the murder trial.
The documentary was filmed over the course of a year.
While in Mauritius, Mark speaks candidly about the difficulties of the trial but also his commitment to representing his family.
The documentary also charts Michaela's family's determination to preserve her legacy by launching a charity in her name.
The Michaela Foundation aims to promote the interests and values which defined her character.
"Things happen in this life that we don't understand, that we will never understand," Mark tells the documentary.
"But what choice do we have? Stop everything? Stop enjoying things, stop taking part?
"That's not how we are. We'll get on with it."
Michaela and Mark's father is Mickey Harte; manage of Tyrone GAA team.
"It's been a difficult journey but together with the prayers of the people and the closeness of our family we've managed to come through that," he says.
"It's a place that you would never want anyone to have to go but if we were going to go there, we certainly have a great family to go with."
Michaela, Mo Dheirfiúr is a co-production for TG4 and BBC Northern Ireland supported by Northern Ireland Screen's Irish Language Broadcast Fund.
It will be shown on BBC2 Northern Ireland at 22:00 GMT on Sunday 13 January.