No unanimous verdict in case of policeman accused of fraud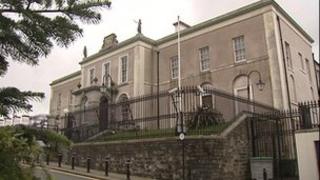 The jury in the trial of a Northern Ireland police officer accused of fraud and misconduct in public office has failed to reach a unanimous verdict.
Keith Andrew Davidson, 44, of Bangor PSNI station, has been on trial at Downpatrick Crown Court.
The officer denies making a fraudulent application for the purchase of his home under the Scheme for the Purchase of Evacuated Dwellings (SPED).
The judge said he would accept a majority verdict.
Mr Davidson is accused of concocting 16 incidents of intimidation.
A prosecution barrister has previously told the court that in January 2008 Mr Davidson put his house on the market with an asking price of £380,000.
At the time, the court heard, he was separating from his wife.
There were several offers to buy the property but all were turned down. It was at a time when the property market was not as strong as it had been.
In June 2008, Mr Davidson made a SPED application that was turned down. The property was eventually sold in 2011 for £232,000.
In April 2008, the jury heard, there was the first of 16 incidents that the prosecution claimed were concocted to make it look as if the accused was being intimidated.
The first was an anonymous call to the estate agent asking if the vendor was a member of the security forces.
Another was a man who turned up for a viewing without an appointment.
One weekend, 24 businesses turned up at Mr Davidson's home. These included pizza deliveries, taxis and offers of gardening work.
Details
The trial heard that Mr Davidson's son made a list of the callers but the list was not kept.
The prosecution barrister said during the trial that it was "unconceivable" that a police officer would not have kept the details.
One another occasion, the court heard, Mr Davidson's then wife, Denise, heard a car in their drive in the middle of the night and that he did not get up to check who it was.
A local minister, Peter Murray, took an anonymous call to say there was a man lurking in the area where Mr Davidson lived.
On another occasion a call was made to the office of assembly member Peter Weir to say that two policemen were to be attacked and gave the address of Mr Davidson and another police officer, Michael Hill.
Mr Hill, now retired, told the court he received two letters addressed to Mr Davidson. One contained information about paying for a funeral in advance and the other a sympathy card.
It was after these and other incidents that Mr Davidson made the SPED application.
Another of Mr Davidson's allegedly concocted incidents of intimidation was the theft and burning of his car.