Accused 'waved union flag provocatively at police'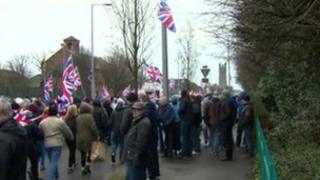 A Carrickfergus man waved a union flag provocatively at police and nationalists after a loyalist protest in east Belfast, a court has been told.
Jamie Reilly is also alleged to have sworn at officers forming a line between the two communities.
Mr Reilly, 20, of Copeland Road, was one of two men arrested and charged after a demonstration on Saturday.
Also appearing at Belfast Magistrates' Court was Steven Johnston, 18, of Whinsmoor Park, Broughshane, Co Antrim.
Both men face charges of disorderly behaviour.
Mr Reilly is further accused of carrying out a provocative act with intent to provoke a breach of the peace.
He is alleged to have been among a crowd of up to 150 loyalists who passed a police cordon close to the Short Strand interface.
Opposing his bail application, a constable claimed Reilly approached police standing in front of nationalist residents and began swearing and making rude gestures.
The court heard that he later emerged again carrying and waving a large union flag.
The officer expressed concerns about further offending linked to the protests over the Belfast city council decision to fly the union flag at city hall on designated days only.
A defence solicitor pointed out that CCTV footage of the alleged incident was still outstanding.
He argued that his client was vulnerable due to an incident in his past.
But despite being told Mr Reilly could live with his mother under strict conditions, District Judge Fiona Bagnall refused bail due to the risk of any more offences being committed.
Mr Reilly was remanded in custody to appear again by video link on 18 February.
Earlier, Mr Johnston was released on continuing police bail to return to court on the same date.
As part of his conditions he must not be in a crowd of more than four people or go within 100 metres of any parade, protest or demonstration.