Sarah Travers says working at BBC was an "honour and a privilege"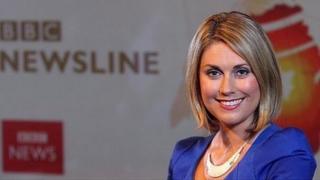 BBC Newsline presenter Sarah Travers has said it has been an "honour and a privilege" to work with the BBC.
Sarah is leaving the BBC after 17 years working for the organisation.
During that time she worked for BBC Radio Foyle and BBC Radio Ulster before joining the presenting team for BBC Newsline.
She has also presented live news events, BBC Newsline's Family Focus, the Titanic centenary, Children in Need and fronts the annual BBC Family Appeal.
BBC News Online catches up with the presenter before her final programme.
What has it been like working on BBC Newsline?
It's been an incredible journey, with highs and lows and plenty of adrenalin. It's been such good fun along the way. I have a hugely talented bunch of colleagues here, with some great personalities, every day you meet somebody different and it's such a buzz.
What is the highlight of your presenting career?
One of the highlights of my career was presenting the Titanic centenary with my friend Donna Traynor. It was such a big event. It was a three and a half hour live programme which had no autocue. We were handing over to the boat in the Atlantic and had so many different live link ups there was so much that could have gone wrong. It was the biggest thing I've ever been involved in. I just wanted to do it justice for those who held it dear and all the team involved.
The past year I've got to work on events like the City of Culture and the Olympic Torch relay. The public really got behind that event and it was just such a great opportunity to celebrate all that is good about Northern Ireland. I felt privileged to be part of that. The Queen's Diamond Jubilee visit was also a lot of fun. The Queen was late because of the fog and we had a live programme with nothing really to see, the directors just kept shouting "fill fill fill". Luckily I had Noel Thompson with me that day.
Do you still get nervous?
When it's all starting to go wrong, you can panic a little bit. If live links don't work or something doesn't play. Sometimes I think they are going to come back to me and an empty chair will be swinging because I'll have run off.
What will you miss the most?
I'm really going to miss the BBC Newsline viewers, since the news of my departure has broken people have been so kind and wishing me all the best. I feel privileged to have had the audience's support throughout my career, the viewers are very loyal and I really appreciate that.
I'm going to miss my colleagues and I hope the friendships continue. I'm only a small part of a great team, from the cameramen to the producers, Gemma and Margaret the cleaners, to those front of house. Everyone plays a part in the programme and all help to make it great.
I'll miss the craic and the humour. It's such a great place to work and you see everyone so often, you actually see them more than your family. Even though sometimes it feels like the hardest job in the world, I wouldn't have it any other way, I've absolutely loved every moment of it.
Sarah Travers was interviewed by Peter Coulter