County Armagh car link in Irish police officer murder examined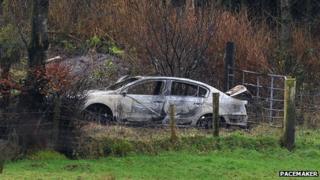 Police are examining whether a burnt out car found in Northern Ireland may be linked to the murder of an Irish police officer on Friday.
The vehicle was found in Fews Forest near Keady in County Armagh on Sunday afternoon, about 25 miles away from the shooting in County Louth.
Detective Garda Adrian Donohoe, 41, was killed at Lordship Credit Union in Bellurgan at about 21:30 GMT on Friday.
The gang stole 4,000 euros cash before fleeing from the scene.
They did not succeed in taking all the money from the premises, with about 40,000 euros left behind.
Irish police believe that five men were involved in the robbery.
Irish police said he was shot without warning and did not produce his weapon before being killed.
Prayers were said for the murdered officer at churches across Ireland on Sunday.
It is believed that the raiders knew the credit union money was being escorted by the Irish police.
While Irish police (gardai) have not ruled anything out at this stage they suspect that a cross-border gang was involved in the robbery and murder, and that gang operates in the north Louth-south Armagh area.
The same gang is suspected of having stolen 62,000 euros from the same credit union a year and a half ago, also using shotguns.
Parish priest Fr Paidraig Murphy, who was at the scene minutes after the shooting, has spent the weekend trying to comfort his widow Caroline - also a Garda officer - and two young children Amy and Niall.
He said: "Like anybody, how do you cope in a situation like that. They are gradually coming to terms with it. They have had great support from colleagues and the local community but, there is still a human element - there is a wife, Caroline who has lost her husband and children who have lost their father."