Sectarian graffiti sprayed on County Fermanagh church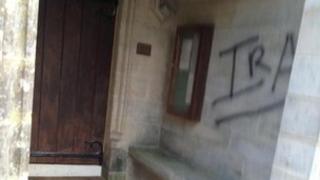 Sectarian graffiti has been sprayed on a Protestant church in County Fermanagh.
It happened at St Patrick's Church of Ireland in Castle Archdale some time last week.
Police said the doors and walls were sprayed with the words 'IRA' sometime between Sunday, 20 January and Thursday, 24 January.
They have appealed for anyone with information to contact them.