East Belfast burns victim to get operation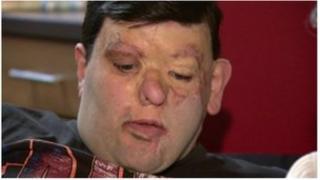 A 35-year-old east Belfast man who has had his operation cancelled by the Belfast Health Trust seven times in as many months has been told it will go ahead on Thursday.
Last week the BBC reported that David Haddock, who has severe burns to his face and body, had been let down at the last minute seven times since August.
However 24 hours after his story was broadcast, he was contacted by the trust saying the operation was being rescheduled for Thursday 31 January.
Mr Haddock, who has learning difficulties, said he was pleased.
"It's good news, really good news, I'm happy and ready to go into hospital," he said.
When David was three years old a house fire killed his mother and granny and left him extremely badly burned.
While he has had plastic surgery, a further operation to his face is long overdue. David said he hoped surgeons would be able to give him eyebrows.
"I need eyebrows and they need to fix my nose," he said.
"My skin always feels tight and I have really long scars across my neck which hurt, especially at night."
'Bit relieved'
Since the fire, David has been raised by his mum's sister Edna Williams.
"I am a bit relieved, but at the same time I'm waiting on the telephone call to say it's been cancelled - again," she said.
"I never asked for this publicity, but after seven months waiting and all those disappointments we had to do something."
Mrs Williams said she appreciates that some cases are more urgent than others.
However, David could not cope with the news that someone else yet again had been given his hospital bed.
"Let's wait and see if it happens. The secretary who rang me said this time it would as it was ordered by management who had phoned her to say it must go ahead. "
Last week, the Belfast Health trust said it was unable to comment on individual cases, but it did issue a statement.
It said: "There are times where patients who are assessed as clinically more urgent are treated ahead of other patients.
"The clinical team within the Plastics & Burns Unit also manage patients who have major burn injuries or suspected cancers.
"As a result planned operations or procedures have to be cancelled and re-arranged at short notice to try and deal with these more urgent cases.
"The medical team have to make choices regarding which patients can have their treatment and when."
David's hospital bag has been packed since last August. He said he knows it will be painful, but hopefully worth it all in the end.