Lloyds Banking Group ordered to hand over 'sensitive' documents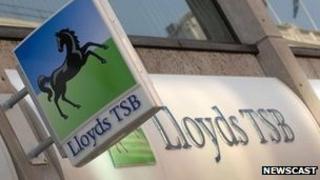 Lloyds Banking Group has been ordered to provide a substantial quantity of sensitive documents to lawyers acting for a Belfast property developer.
In 2012, Chris Walsh secured an injunction preventing a Lloyds subsidiary, Bank of Scotland Ireland (BoSI), from taking legal action against him or his companies.
On Monday, Mr Justice Weatherup ruled that Lloyds must provide Mr Walsh with details of the BoSI bonus scheme during the property boom and information concerning the wind-down of the business.
BoSI was effectively closed in 2010 after losing billions in the Irish property crash.
Mr Walsh claimed that in 2012 a firm called Certus, which acts for Lloyds, effectively ordered him to sell his multi-million pound portfolio and repay all his loans within the next 18 months.
He said such a rapid sale would not raise enough to cover the loans and would likely lead to his personal bankruptcy.
He claimed that the bank had given him assurances that loans made in 2006 and 2007 could be repaid over an extended period of as much as 20 years.
The bank disputes that these assurances were given and said that while it wanted the properties sold and loans repaid, it had not specified an 18-month time frame.
The matter is expected to come to a full hearing later this year.
Among the documents the bank must provide are the details of a bonus scheme called Extra, which the court was told stood for 'exceed targets, receive awards'.
Other information to be provided includes the Bank of Scotland documents which were the focus of a Financial Services Authority (FSA) inquiry.
In 2012, that FSA inquiry found that Bank of Scotland's corporate division was guilty of very serious misconduct due to its "aggressive, high-risk lending strategy".
Other details to be given to Mr Walsh's legal team are:
Instructions from Lloyds managers to Certus.
The disposal plan for Irish properties controlled by Lloyds.
The disposal plan for Mr Walsh's assets.
Emails concerning Mr Walsh which were sent by five Edinburgh-based bank executives.
Property portfolio
The judge ruled that the bank did not need to disclose details of the tax advice it had received with regard to its Irish loan book or whether Mr Walsh's loans were part of a loan sale known as Project Harrogate.
The court heard that a former BoSI executive in Belfast is now "allied" to Mr Walsh's case.
Mr Walsh has built up a property portfolio over the last 10 years which, at its peak, was valued at more than £100m.
The portfolio includes: the Arndale Shopping Centre in Leeds, Direct Line House in Leeds, the Nags Head shopping centre in Islington, properties on Kensington High Street, London, the Riverside Walk shopping centre in Thetford and at the Balmoral Plaza in south Belfast.