Union flag dispute: McGuinness meets people 'involved in protests'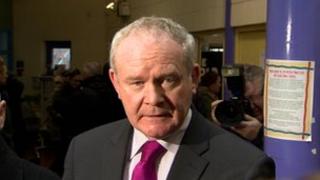 Northern Ireland's deputy first minister Martin McGuinness has told the assembly he has met people involved in the loyalist flag protests.
Speaking in assembly question-time on Monday, Mr McGuiness said he had also met some people who could influence the ending of violence on the streets.
He welcomed the "Backing Belfast" initiative aimed at encouraging consumers back into the city.
The key was "to see confidence and stability restored," he said.
Mr McGuinness also spoke about the importance of the 2013 City of Culture celebrations to his home city.
He offered to speak to the loyalist people of Londonderry who had said they felt ignored.
"I am willing to go to the Waterside and speak to people who are protesting," he added.
Earlier in the month, Mr McGuinness said political leaders needed to "stand shoulder to shoulder" and do more to end violent protests around the flags issue.
Loyalist street demonstrations have been taking place for almost eight weeks, since Belfast City Council voted to change its long-standing union flag policy on 3 December.
The majority of the street demonstrations have passed without incident, but some have resulted in serious rioting and injuries to more than 100 police officers.