DUP call to bar Sinn Féin's £100,000 Westminster grant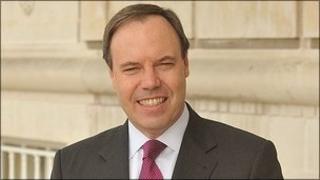 The DUP has said state funds given to Sinn Fein for research and policy work at Westminster should be withdrawn because the party do not take their parliamentary seats.
Sinn Fein gets an annual grant of £100,000 under a scheme designed for parties that do not sit in the chamber.
North Belfast DUP MP Nigel Dodds said that money was hard to justify.
The issue is due to be raised at a debate in Westminster later on Tuesday.
"We think that it is wrong and there's a cross-party view among many of the parties in Westminster that it is wrong and that needs to be addressed," he said.
"I think there is a growing view that given the clampdown on the waste of taxpayers' money generally across the public sector and, indeed, public expenditure, that people are fed up by the situation."
Mr Dodds said Tuesday's debate would highlight what he considered a "ludicrous and farcical" situation.