NI ministers in Brussels to share ideas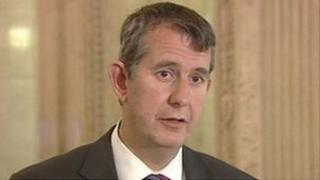 When it comes to leading the way in health and prosperity, Northern Ireland is ahead of the game.
That is according to the health and enterprise ministers who are in Brussels to raise awareness among European leaders of the innovative collaborations taking place locally in "connected health".
Both Edwin Poots and Arlene Foster are at the European Parliament in Brussels to promote the growing relationship between the health service and local business.
The aim of the two-day event, which includes seminars and an exhibition, is to demonstrate how both are using technology to improve patient outcomes while at the same time promote the local economy.
Tele-monitoring is just one example of connected health - that is where a patient, while being cared for in their own home, can be observed from a hospital or health centre.
Treating people in hospital is expensive so when possible, the health service is attempting to treat people at home.
For instance, with the right equipment installed at home, a patient can take their own vital signs, such as blood pressure and oxygen levels.
That information is then fed to a central office where health professionals are monitoring the information.
Currently all five health trusts are using a private company based in Holywood, County Down, where a bank of nurses monitor the calls.
Around 1,000 patients are set-up to do this in Northern Ireland but that figure will grow.
While in non-urgent cases the system is slick and convenient, it does cut out the face-to-face interaction between patient and nurse.
A range of companies from across Europe are due to attend the seminar alongside European minister Tonio Borg.
According to the health minister they will draw to the commissioners' attention that more can be achieved in collaboration with the EU.
Before leaving for the trip, Mr Poots said it was a great opportunity for Northern Ireland.
"I am very much looking forward to sharing with leaders across Europe our example of bringing health and prosperity together," he said.
"Our mission here is simple: demonstrate how connected health and prosperity agenda is working in Northern Ireland and we will attract more interest, expertise and investment. This can only improve the ways we deliver health care.
"It is important that Europe sees what Northern Ireland has to offer as this will help us progress and prosper."
Enterprise Minister Arlene Foster said: "Healthcare is one of the key industries capable of delivering a strong knowledge-based economy and in Northern Ireland many of our companies are at the forefront of the connected health and medical devices sector.
"Treating more people in their homes will be a major feature of future health services, offering significant opportunities for industry and academia to commercialise research and ultimately improve patient care."
Companies from Northern Ireland who are attending the event include: Kainos; Intelesens; Exploristics; Connected Health Ltd; EMC and Yarra Software. Also representatives from Queens University, the University of Ulster, Belfast City Council, the Connected Health Innovation Centre and the European Connected Health Alliance are also attending.