Belfast hospital thieves 'targeted double amputee'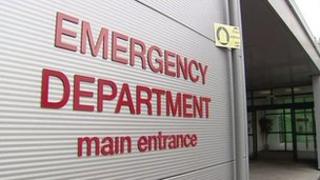 A double amputee was among patients targeted by thieves during a night-time raid on a Belfast hospital, the city's High Court has been told.
The intruders, who entered the wards at Royal Victoria Hospital last October, also stole from a pensioner and a man under sedation, prosecutors said.
The details were disclosed as Gerard Madden, one of two men accused of the burglary applied for bail.
The 21-year-old, from Aspen Park in Dunmurry, denies the charges.
At a previous court hearing it was revealed that patients' mobile phones, a handbag, a watch and headphones were stolen in the early hours of 15 October.
Pregnant
One elderly patient was said to have been wakened from her sleep by a man standing beside her bed, drinking from a bottle.
She challenged him after discovering her phone was missing, the court was told at the time.
CCTV footage forms part of the case against both accused - that they allegedly left the Accident and Emergency department and wandered through the hospital without permission.
On Wednesday, Mr Madden made a second bail application in a bid to help his pregnant partner.
Mr Justice Burgess, who heard the original application, recalled that the alleged offences involved victims waking up to discover the intrusions.
A prosecuting barrister added: "One was sedated, one was in their early seventies, and one was a double amputee."
Defence counsel Michael Ward urged the judge to release his client due to the length of time the case is taking to get to trial.
'Sense of responsibility'
He said the accused wanted to support his partner as she prepares to give birth to their child.
Claiming Mr Madden has obtained a sense of responsibility, the barrister added: "He feels he has been punished sufficiently and makes no bones about the fact that he has a case to answer.
"He really is someone who seems to have turned a corner. He wants to be there for his partner during the final weeks of her pregnancy."
However, Mr Justice Burgess again ruled that bail should be refused.
He confirmed: "At this stage I see no grounds for changing my original decision."