Patton Group goods are auctioned off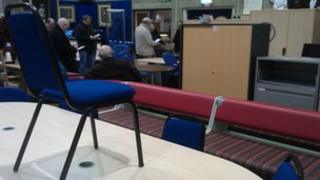 Over the last six weeks, what remains of Ballymena's Patton Group has been auctioned off.
On Tuesday night some of the final remnants were under the hammer at Wilson's auction house in Mallusk, County Antrim.
Office equipment from Patton's headquarters was sold off in more than 100 lots.
Everything from boxes of computer cables, to staff mobile phones, PCs, digital cameras, and spinning desk chairs went under the hammer.
The company used to have an annual turnover of millions of pounds. Now their printers were sold for a fiver, and laptops flogged for £40.
It is the job of the administrator to try and get as much money as possible out of the remains of the business in order to pay off those who are owed money.
Even after the auctions though, the administrator Tom Keenan said in his latest report that he thought it "unlikely" that any of the sub-contractors would get any of their money back.
Nearly £60m is owed to companies who had been working for Patton, but they are known as unsecured creditors, and are at the bottom of the pile.
The banks are first in the queue.
Danske Bank is owed £15.6m, Bank of Ireland is owed more than £14m, Ulster Bank is owed £581,000 and First Trust is owed £301,000.
By the time the administrator settles those debts, and pays staff their final wages, the sale of modems and phone chargers won't go far to cover the shortfall.
Of Patton's 320 employees at the start of November 2012, only a handful remain at the company to help the administrator complete the wind-up.
The auction room was packed on Tuesday evening, with many people hoping to pick up a bargain for their own business.
Des Harvey from Belmont Funishings said: "It's not pleasant but in business generally it's very bad at the moment, so we all have to try and cut our costs where we can."
It feels like survival of the fittest for firms at the moment, and this auction was a moment where the remains of a fallen firm surfaced.
While some companies have benefited, far more have been compromised by bad debts owed by Patton which will never be paid.
To hear more from the auction, listen to the BBC NI business news podcast