OFT says UK petrol market is working well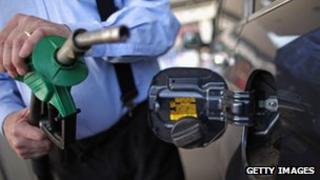 The Office of Fair Trading (OFT) has confirmed Northern Ireland's position as the most expensive part of the UK for petrol and diesel.
A report said it may be partly explained by the fact there are fewer supermarkets in Northern Ireland charging lower prices.
In the rest of the UK, supermarkets like Tesco and Sainsburys account for 15% of filling stations, compared to 7% in Northern Ireland.
Another factor is volume of sales.
The OFT said local sites averaged 1.6m litres a year, compared to 4.3m in other regions.
It said retailers in Northern Ireland "are more likely to be operating at low levels of volume that fail to exploit economies of scale".
Based on research carried out last August, it found Northern Ireland was 0.5p per litre more for diesel and 0.8p a litre more for petrol.
The OFT study said little action was needed in regards to the UK petrol and diesel market.
"The evidence gathered by the OFT suggests that at a national level, competition is working well in the UK road fuel sector," its report said.
It found the UK has some of Europe's cheapest fuel prices before tax.
It said there was very little evidence that petrol and diesel prices rise quickly when oil prices go up, but are slow to fall when prices drop.