Belfast woman poured kettle of water over husband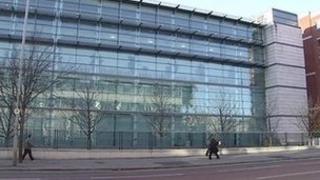 A Belfast mother-of-one who punched her husband in the head before tipping a kettle of boiling water over him has been jailed for three years.
A judge told Margaret Joanne Collins, 44, from Hynford Street, that the attack on her husband Brian last March was a serious and sustained assault.
Mr Collins was taken to hospital the following day and was in a coma for a period.
He also received plastic surgery for injuries to his scalp.
Prosecutor Stephen McCourt said that Collins had been out with a girlfriend and returned home to find she had been locked out by her husband.
He eventually opened the door and an argument broke out between them.
At one stage in the kitchen a drunken Collins repeatedly punched her husband about the face before "tipping a kettle of freshly boiled water" over his head.
Mr McCourt said although her friend got her to stop, she punched him again in the head.
The following afternoon an ambulance had to be called and Mr Collins was rushed to hospital.
Defence QC Terence McDonald said what occurred had been an escalation of what had happened in the past, a "depressingly familiar story" of a couple who both had alcohol problems and when drinking their behaviour became uninhibited, sometimes involving violence.
Collins, said Mr McDonald, when sober was usually an agreeable woman, but she had "a certain naivety" about her married relationship.
As part of her sentence, the judge ordered Collins to serve an extended two-year period of supervised licensed parole upon her release from jail.