Underground fuel plant dismantled in south Armagh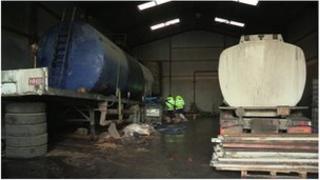 More than 14 tonnes of toxic waste have been removed from an industrial unit in south Armagh after the discovery of a diesel laundering plant.
Customs and police officers searched the units in the Jonesborough area on Wednesday morning.
They discovered large underground tanks being used to launder green diesel.
The plant, capable of producing 25 million litres of illicit fuel, evading over £18m in taxes and duty a year, was dismantled.
David Ford, justice minister and chair of the Organised Crime Task Force, accompanied officers during the operation.
"I commend HMRC and PSNI officers on discovering this underground fuel laundering plant," he said.
"This success shows the important role that the OCTF has in defeating crime and protecting our community. It is important that operations like this are detected and shut down."
John Whiting, of HM Customs, said: "The fact that this laundering was taking place underground poses a real risk of contamination in the surrounding countryside.
"Every illegal laundering operation typically generates tonnes of toxic waste, which causes significant environmental and safety risks."