Health department hasn't yet secured funding for reforms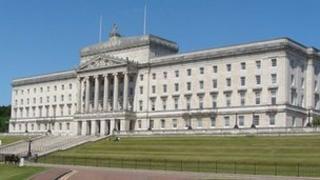 The Department of Health has not yet sourced all the transitional funding required for its major health reforms under the Transforming Your Care (TYC) programme, a departmental official has told the Stormont health committee.
The TYC report identified a need for £70m for transitional funding for the period up to 2014/15
Julie Thompson told members that: "At the moment it would be fair to say we haven't got a funding source for that in 2013 to 2014."
Gordon Dunne of the DUP noted that the financial year 2013/14 was only "two months or so" away.
The DUP's Jim Wells observed that Ms Thompson appeared before the committee each year having balanced the budget "like a female Houdini".
The committee also held an evidence session with Health Department officials on illicit tobacco sales.
Dr Elizabeth Mitchell explained that some committee members had requested further information on the potential influence of illicit sales on the application of the Tobacco Retailer Sanctions Bill.
In particular, she had been asked to ascertain if it would be possible for retailers found to be selling illicit tobacco to be banned from selling legal tobacco products.
Dr Mitchell said the department had received legal advice that this was already possible under the UK-wide Tobacco Products Duty Act, 1979.
"There would be no good reason to duplicate this in the Tobacco Retailer Sanctions Bill," she added.