Jerry McCabe: Adams apologies to family over the killing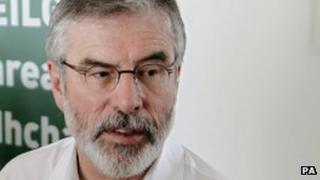 Sinn Fein leader Gerry Adams has apologised for the IRA killing of Detective Garda Jerry McCabe 17 years ago.
The officer was shot down by republicans during a botched post office raid in Adare, Co Limerick, in June 1996.
Mr Adams apologised for the attack in the Irish parliament (Dail) as he paid tribute to another officer shot dead during a robbery in his constituency last Friday.
He told the Dail that the death of Detective Garda Adrian Donohoe had provoked memories of the killing of Garda McCabe and the wounding of his colleague, Garda Ben O Sullivan.
"I want to apologise to Mrs (Anne) McCabe and the McCabe family, and to Garda Ben O'Sullivan and to the families of other members of the state forces who were killed by republicans in the course of the conflict," said Mr Adams.
"I am very sorry for the pain and loss inflicted on those families. No words of mine can remove that hurt. Dreadful events cannot be undone.
"But I want to restate that the resolve of Sinn Fein and of the majority of Irish people is to ensure that there is never ever a recurrence of conflict."
Four Provisional IRA members were later convicted of killing the detective, but have since been freed from jail.