Belfast Metropolitan College makes £2.5m deficit in 2011-12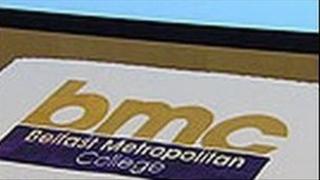 Belfast Metropolitan College (BMC) has made an operating deficit of £2.5m during 2011-12.
The public spending watchdog, the Audit Office, has also found that the college has run an overall deficit of more than £17m since it was formed six years ago.
The college says it is making progress towards a sound financial footing.
Belfast Metropolitan College is the largest further education college in Northern Ireland and has several campuses across the city.
A spokesperson for Belfast Met said: "The legacy of financial challenges facing Belfast Met is well documented; as too is our progress in delivering the changes necessary to ensure the college is placed on a sound and sustainable financial footing.
"As acknowledged by NIAO (Northern Ireland Audit Office) , the deficit for 2011-12 has included one-off redundancy costs of £863,000. In total, exceptional costs since 2007-2008 amount to just over £9m. This spend was essential to deliver the changes needed.
"We recognise that there is much more to be done and our commitment to executing our college improvement plan (CIP) is key.
"We are on track to achieve the targets agreed for 2012/2013 and will continue to rigorously monitor performance against the CIP, which is already delivering significant improvements across many areas of our operation."