Lagan Group boss sent bullet in post over merger talks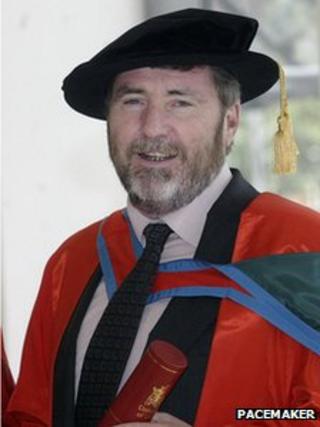 A bullet has been sent to a senior member of the Lagan Group.
It was contained in a packaged addressed to the company's chief executive, Kevin Lagan in Belfast.
A note accompanying the bullet made reference to Lagan Group's recent discussions about a possible joint venture with Quinn Building Products.
Mr Lagan said it was an attempt to intimidate himself and the company. Police are investigating.
Lagan Cement Group recently signed a memorandum of understanding with Quinn Building Products that may lead to a joint venture (JV) between the two groups whereby they would combine their cement and building products businesses based in Ballyconnell, Derrylin, Kinnegad, Belfast, Cork and Benelux.
The Quinn Group, which was previously owned by Fermanagh businessman Sean Quinn, was taken over by a consortium of banks in April 2011.
Mr Quinn was later declared bankrupt with debts of £2bn euros.
There have been a number of attacks on Quinn Group property since new management took over the company in 2012.
The bullet, which was sent to Mr Lagan at his Belfast office, was accompanied by a message stating: "Quinn ... is this what you want".
Mr Lagan immediately called the PSNI to investigate.
Mr. Lagan said: "This is clearly an attempt to intimidate myself and the Lagan Group at a time when we are engaged in discussions with Quinn on combining our cement and building products businesses.
"The proposed joint venture is a positive move for everyone and will create a sustainable, independent cement manufacturer that can continue to support its customers and employees on a competitive basis.
"The people behind this crude, intimidatory tactic clearly aren't interested in protecting jobs, but we will not be swayed from our determination to complete our discussions successfully."
The two firms employ about 570 people in a variety of locations across Ireland.
If the venture goes ahead it will be the second largest cement supplier in Ireland behind Irish Cement, which is owned by the multinational CRH.
Quinn Building Products supplies cement, concrete, roof tiles and other quarry products from plants at Ballyconnell in County Cavan and Derrylin in County Fermanagh.
Other Quinn manufacturing businesses which make insulating products and tarmac are not part of the proposed deal.
The Lagan Cement Group supplies similar products from a large cement plant at Kinnegad in County Meath. It also has a facility in Cork under the Healy Brothers brand.
In Northern Ireland, it operates from Ballystockart quarry, Glengormley, Whitemountain quarry and Temple quarry. It also has a facility in the Netherlands.
The Lagan Sand business is not part of the proposed deal.