Moyle electricity interconnector repairs could cost £60m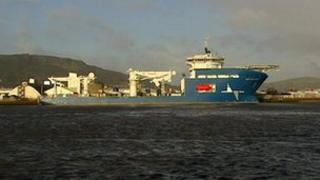 The company which owns the electricity interconnector between Northern Ireland and Scotland might have to spend £60m to replace damaged cables.
Mutual Energy's Paddy Larkin told an assembly committee this was his preferred solution to the faults.
They are causing the interconnector to run at half its usual 500mw capacity.
The 10-year-old Moyle electricity interconnector ensures cheaper electricity and security of supply between NI and Great Britain.
Mr Larkin explained to the enterprise committee that Mutual Energy was owned by electricity consumers in Northern Ireland, was operated in their interests, and had no shareholders.
He said work was ongoing to locate a fault six miles off the coast of Scotland and this could be something the size of a pinprick or a 10p piece.
The DUP's Paul Frew asked if it would not be better to lay two new cables rather than to proceed with further repairs.
"What you've said is exactly what we're working on at the minute," Mr Larkin replied.
In reply to a question from Ulster Unionist Sandra Overend, Mr Larkin said the cable had been designed to last 30 years.
The committee also discussed a proposed gas storage facility at Islandmagee, County Antrim.
Officials briefed the members on the collection of tourism statistics, and how this had changed since responsibility for their collection had passed from the Northern Ireland Tourist Board to the Northern Ireland Statistics and Research Agency (NISRA).