B&Q owner's Kingfisher puts Irish arm into examinership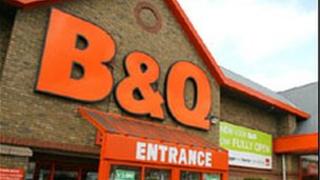 Kingfisher, the retail giant that owns B&Q, has applied through the courts to puts its nine large stores in the Republic of Ireland into examinership.
This is similar to the UK process of going into administration.
In a statement, the group said losses in the Irish market could no longer be sustained by the company.
Kingfisher has been hit by the recession and by the drop in consumer spending in the housing sector.
A weak housing market means spending on home improvements falls significantly which impacts on DIY businesses.
Kingfisher has nine large stores across the Republic of Ireland employing 690 people. The B&Q stores are in Athlone, Cork, Galway, Limerick, Naas and Waterford. There are three in Dublin.
PWC will operate as interim examiner.