Smithwick Inquiry: IRA say there was no input from other sources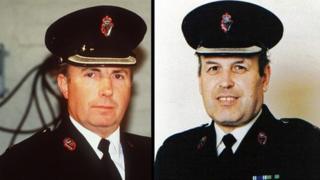 Former members of the IRA have told the Smithwick tribunal that two senior RUC officers were shot after a lengthy and detailed surveillance operation.
They claim at no time was there any input from gardai or any other source.
The Smithwick Inquiry is investigating claims of Garda collusion in the deaths of RUC Chief Supt Harry Breen and Supt Bob Buchanan in March 1989.
The tribunal was shown a document suggesting that a Catholic RUC officer was the source of police collusion.
Judge Peter Smithwick said that despite giving the IRA members assurances on protecting their identities and guaranteeing their security, he was disappointed by their decision not to give evidence in person under oath and allow their evidence to be tested by cross-examination.
The IRA told representatives of the Smithwick tribunal in unsworn statements that at least 40 of its members were involved in the operation that led to the murders of Chief Supt Harry Breen and Supt Bob Buchanan, after they visited Dundalk Garda station.
An operation the three former paramilitaries hinted, that began around nine months before-hand with the chance discovery of another RUC officer as a passenger in Bob Buchanan's red Vauxhall Cavalier car at the station
The IRA told the tribunal that British security force personnel "were creatures of habit".
They added that with a note of the car's registration number and Dundalk garda station under near constant surveillance from a nearby derelict house its members were able to capitalise on what it called "sloppy work by our enemy".
The IRA claimed its operation was "lengthy and detailed" and that "at no time was there any input from gardai or any other source".
The republican paramilitary group claimed that in all there were four operations aimed at killing the occupants of the car.
Judge Peter Smithwick has heard accusations against three former Garda sergeants alleging they were IRA moles.
All three vehemently deny the allegation.
The Irish Prime Minister, Enda Kenny, criticised the IRA's non-appearance and contrasted it with Sinn Fein's calls for a Truth and reconciliation Commission.
Earlier on Friday six senior former figures in the Ulster Unionist Party disputed claims made in a government document about RUC collusion in the murders of the two RUC officers.
The Northern Ireland Office (NIO) document was written at the time of the 2001 Weston Park peace talks.
In the disputed document, the former UUP MP for North Down, Lady Sylvia Hermon, is quoted as saying a Catholic senior RUC officer was the likely source of collusion in the Breen and Buchanan murders.
Details of the claims made in the document first emerged at the inquiry in July last year.
The tribunal heard written statements and affidavits from former UUP politicians including Lady Hermon, the former UUP leader David Trimble and the former UUP MLAs Jeffrey Donaldson and David Burnside.
It also heard evidence from Lord Trimble's ex-chief of staff, David Campbell.
In their statements, all five described the NIO document as wholly or entirely incorrect.
The former UUP MP Ken Maginnis - now Lord Maginnis of Drumglass - is attending the tribunal in person on Friday to give evidence supporting his former colleagues' recollections.
On Thursday, Judge Peter Smithwick confirmed in an interim report to the Irish parliament that no former IRA member was willing to testify in person.
Chief Supt Breen and Supt Buchanan were shot dead by the Provisional IRA (PIRA) in an ambush in south Armagh, shortly after they left a meeting in Dundalk garda station.