Michaela McAreavey defence lawyer faces disciplinary action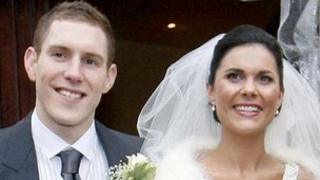 A lawyer who defended one of the men cleared of murdering Michaela McAreavey is facing disciplinary action by the legal authorities in Mauritius.
Kalidass Teeluckdharry is accused of trying to improperly influence the jury after referring to an academic document written by a juror's son in his closing address at last year's trial.
Michaela, 27, was killed on her honeymoon in Mauritius in 2011.
In July, two hotel workers were cleared of the murder.
Sandip Moneea and Avinash Treebhoowoon, who worked at the Legends hotel, were cleared of Mrs McAreavey's killing by a jury at the Supreme Court in the capital Port Louis.
Mr Teeluckdharry represented Mr Treebhoowon.
The disciplinary hearing is due to be challenged by judicial review in Port Louis on Monday. It is also scheduled to be mentioned in the Supreme Court the following day.
Mr Teeluckdharry said on Friday that he was unable to comment because of this judicial review.
A report by Mauritius's attorney general Yatindra Nath Varma, said Mr Teeluckdharry could face disciplinary proceedings after he referred to an "unauthoritative" piece of documentation from a previous law officer of the attorney general's office, knowing a juror was the father of the law officer.
"He has deliberately tried to improperly influence the jury and therefore has acted in breach of ... the code of ethics," the document said.