Mountain-biking 'could draw thousands of tourists to Northern Ireland'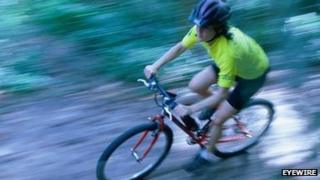 Dafydd Davis is a man at home in the mountains.
He chats casually from the driver's seat while I grip the dashboard of his little hire car which is bouncing and snaking its way up a seemingly impossibly steep path deep in the heart of Rostrevor Forest Park.
We're on our way to see the latest creation from this Welshman with a CV second-to-none in the world of designing and building mountain bike trails.
As our car finally shudders to a halt, he doesn't have to work too hard to persuade me of the technical challenges this particular project has posed.
He explains: "I've been involved with probably 60 projects now in nine different countries across the world, ranging from deserts to rainforests to public parks, alpine areas, and this is probably the most technically difficult trail build that I've ever been involved in really."
Difficult yes, but the results seem certain to make all the effort worthwhile, not just for Dafydd, but for the whole south Down area.
"I'm extremely pleased with what we've achieved here," he said.
"I'm probably more pleased with this than with almost anything else that I've done really, mostly because of the way it sits in the landscape.
"And also when you're doing the design and you're setting things out, you have a vision of how you'd like it to be and it's pretty much all falling into place: it's exactly as I saw it in my head really. It's great."
This from a man who has designed trails in Canada, Japan and Israel, not to mention the Velopark at the London Olympics.
"I think these are going to be iconic trails, not just for Ireland but for the British Isles really," he said.
Other trails are being built in Castlewellan, Castleward, the Sperrins and elsewhere, so could Northern Ireland become a 'must-visit' destination for mountain bikers from the UK, Ireland and beyond?
"Definitely," said Dafydd. "I mean this trail here in Rostrevor is probably one of the best purpose-built mountain bike trails anywhere and it's worth people travelling over here just to do this trail.
"With the other developments that are on the cards here, I think Northern Ireland definitely has the potential to be an international destination."
That potential is exciting businesspeople in the area. Therese McAvoy is the marketing manager of the Whistledown Hotel in Warrenpoint.
"We're acutely aware of the needs of the mountain-biking enthusiast," she said.
"We know that it's paramount that they have secure housing for their bicycles when they come off the mountain, to have their bicycles washed, to have good laundry facilities, to be able to offer them wholesome nourishing food, a nice relaxing bar where they can enjoy a pint of Guinness and talk about their adventures on the trail that day, so we're tailoring our packages here.
"We're going to welcome mountain-biking visitors and we know they'll want to come back."
A recent meeting of business people from the area, hosted by the Tourist Board, saw around 150 people turn out to hear about the project.
"This is a very big venture and we're ready to make the most of it and embrace all the visitors," said Therese.
"We've got a lot to offer here and this is just what our economy needs. We've got the setting, we've got the people and now we need to bring the visitors here to see what we've got.
"This is one of the most beautiful places in the world and we have a lot to offer, and this hidden gem has been discovered now so it will be lovely to see more people come and visit."
Chris Armstrong from Outdoor Recreation NI said the potential was huge.
"In Scotland, they have a group of trail centres called the 7stanes and they're getting about 600,000 mountain-bike visitors every year and the Scottish government reckons that's generating around £118m per year," he said.
"In Wales, it's probably about £22m it's bringing to the local economy. And the nature of mountain-biking trails is that they are actually in rural communities so it's a big boost to the local economies in those communities.
"Northern Ireland's always been recognised as having the ideal terrain for mountain-biking trails so it's been sad to see, every weekend, the mass exodus on the ferry to Scotland or over the border to trails in the south. It's been a long-time coming but we're very confident now that in two or three months time we'll have world class trails and facilities here.
"The Mournes is packaged as a short-break destination as well, so we're really hoping to see people from Scotland and from Wales coming over and spending a long weekend here in the Mournes, or in the Sperrins. They'll have their choice of venues within 90 minutes drive.
"I really do think that 2013 will change the face of mountain-biking in Northern Ireland and it's a great sign of things to come."