Union flag protests: Politicians must 'deal with issues'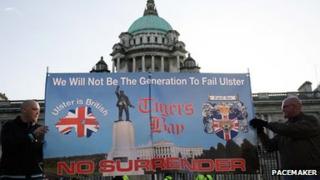 The Auxiliary Bishop of Down and Connor has said that Northern Ireland's politicians must deal with the underlying issues of the flag protests.
Donal McKeown said the flags protests showed there were deep problems.
He said that it was costing millions to police disorder rather than tackle the underlying issues.
"I believe that if anger has gone on in the streets for ten weeks, there is something driving that, there's something genuine" he said.
"I have an awful lot of sympathy of people who feel upset, left behind, disillusioned who feel nihilistic about the future because of the circumstances they're working in."
Protests have been taking place since Belfast City Council voted to change its union flag policy on 3 December.
The majority of the street demonstrations have passed without incident, but some have resulted in serious rioting and injuries to more than 100 police officers.
Bishop McKeown told BBC Radio Ulster's Sunday Sequence programme leadership was needed.
"We have to grapple with the real emotions of people rather than just condemn the actions," he said.
"Yes, you condemn the actions, those who put pipe-bombs outside churches when people are going to them, that's fine, but if there is something driving that for a ten week period then we have to grapple with that reality.
"It is up to our political figures to see who is being left behind in our society, who feels most underprivileged and stripped naked of all that was important to them.
"The presenting feelings are that we are angry about flags but there are other huge problems particularly in unionist working class, or benefit class areas, fragmentation lack of confidence about the future and unless we deal with those very, very serious issues like educational underachievement, and we have done that in the Catholic sector, then I think our politicians are letting down people and society, because we are paying millions to police public disorder rather than tackle the source of them."