NI fire service recruiting part-time firefighters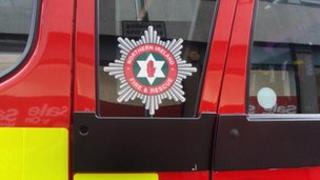 The Northern Ireland Fire & Rescue Service (NIFRS) has launched a drive to recruit part-time (retained) fire-fighters.
They are looking to staff to work in 37 fire stations across Northern Ireland.
The NIFRS is encouraging more women and those from ethnic minority backgrounds to apply.
It wants to recruit people who live and work within a five minute radius of their local fire station.
Retained Fire-fighters respond to emergency incidents including fires, road traffic collisions and other specialist service calls such as chemical spills, collapsed buildings and other types of rescues.
They also play a crucial role in providing safety advice and assistance in their local community.
Chief fire officer, Chris Kerr, said: "Simply put, NIFRS could not operate without our retained fire-fighters as they provide the emergency fire and rescue services to the communities in which they live and work.
'Rewarding'
"Retained fire-fighters make up over half the total number of fire-fighters in Northern Ireland and in this recruitment campaign we are encouraging more females and those from ethnic minority backgrounds to consider this as a viable career option.
"We currently have 21 retained female firefighters and retained firefighters from a variety of ethnic minority backgrounds and we are keen to see more females and ethnic minority groups applying."
Mr Kerr said it was an "extremely rewarding and interesting job" and said retained firefighters must be able to respond quickly to emergency call outs.
"Local employers have an equally important role to play in the success of the retained fire-fighter system by allowing their employees to become retained firefighters," he added.
"Hundreds of local employers across Northern Ireland employ retained firefighters, benefiting by having someone on site professionally trained to respond to a range of emergency incidents and who can advise on fire safety in their own business.
"NIFRS greatly appreciates the support of local employers in helping provide the best possible fire and rescue service."
Retained Firefighters are paid a monthly retaining fee, plus drill night attendance, emergency call out fees, as well as annual holiday leave.