£1m to tackle NI dereliction and eyesores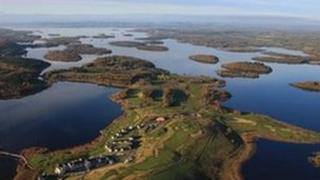 £1m is to be spent by the Department of Environment to tackle dereliction in a number of towns.
Fermanagh is to get a £380,000 boost in the run up to the G8 summit and Belfast will benefit from £300,000.
Last year, Portrush and Portstewart were given a facelift in advance of the Irish Open and Londonderry got a cash injection in the run up to the UK City of Culture 2013.
Five council areas are to benefit from this latest round of funding.
The funding was announced by Environment Minister Alex Attwood who said it was "good news for many areas".
"Fermanagh will be very much in the international spotlight this year as hosts for the G8 summit," he said.
"This is a tremendous opportunity to showcase its charms to the world. I want my department to contribute to that and almost £380,000 will be a good start towards addressing dereliction and decay in the area."
He said Belfast had been in the international spotlight for "all the wrong reasons".
"It is fitting that we do everything in our power to make the city as attractive for tourists and consumers," he said.
"This funding package will be a significant boost towards that."
Also in the pipeline for a cash boost are: Lisburn - £160,000; Moyle - £100,000 for Bushmills, Ballycastle, Ballintoy, Waterfoot, Mosside, Armoy; Down - £60,000 for Ballynahinch, Newcastle and Downpatrick.
Last year more than £400,000 was invested in Portrush and Portstewart and more than £500,000 in Derry.
"This funding means we will be able to extend the good work down the coast, removing eyesores in scenic coastal areas including Bushmills, Ballycastle, Waterfoot and Ballintoy," said Mr Attwood.
"Lisburn is this year's European City of Sport, and our investment will see many areas in the city centre being given a real spruce up.
"Downpatrick, Ballynahinch and Newcastle will benefit from the funding boosting in these historic and seaside areas.
"If we want tourists to stay longer, if we want more tourists to come, then tackling major eyesores and dereliction will certainly help.
"While this is timely in relation to G8, Lisburn as City of Sport and helping to tackle problems immediately facing Belfast, I am doing this to benefit tourism in the long term."
The leaders of eight of the world's richest countries are coming the Lough Erne golf resort near Enniskillen, County Fermanagh, for the G8 in June.
No event of this magnitude has ever been held in Northern Ireland before.