Pseudomonas: Family welcomes police investigation into baby deaths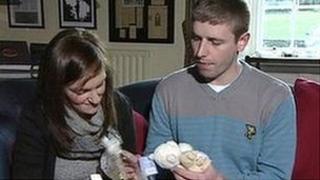 A couple whose son was the first baby to die during the pseudomonas outbreak have welcomed a police investigation into the circumstances of his death.
Four babies died from pseudomonas at two Northern Ireland hospitals between in December 2011 and January 2012.
Police are now conducting preliminary investigations into the four deaths from the bacterial infection.
Gavin Burke's son died in Altnagelvin. He said police have told his family they are examining hospital records.
Caolan Burke was born at Altnagelvin Hospital in County Londonderry in December 2011 but died there ten days later after contracting pseudomonas.
The following month, three more babies died from the infection at Belfast's Royal Jubilee Maternity Unit.
'Answers'
Mr Burke told the BBC that he had been informed of the investigation in a meeting the the PSNI on Friday,
He said: "Along with our solicitor we met the police and told them how we felt. We were never satisfied with the investigation at the time - hopefully this time we will get some answers."
Two of the families affected have made complaints to police but the families of all four babies have been made aware of the development.
Mr Burke, who called for a public inquiry after his son died, said a previous investigation into his son's death did not provide his family with any answers.
Last year, the four deaths were investigated by the Regulation and Quality Improvement Authority (RQIA).
The RQIA concluded that the bug was linked to water from contaminated taps in hospital neonatal units.
Vulnerable
Its independent review also criticised a lack of communication between health officials and said some of the deaths may have been prevented if the Belfast Health Trust had acted sooner.
The Western Health Trust also wrote to Caolan's parents in May last year to say it had decided to carry out its own formal review of his care, separate from the RQIA investigation.
Pseudomonas is a tough strain of bacteria that is found widely in soil and stagnant water.
It can infect humans but does not usually cause illness in healthy people.
However, it can cause serious harm to vulnerable hospital patients with weakened immune systems, such as premature babies.