Joanne McDermott 'going through hell' after her son was knocked down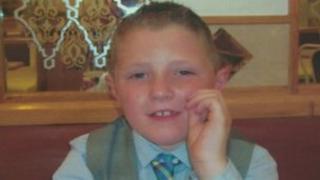 The mother of an eight-year-old boy who was knocked down by a car in Belfast last week has made an emotional appeal for witnesses to come forward.
Joanne McDermott's son Joseph was hit by a vehicle on the Grosvenor Road last Tuesday, as he made his way home from buying sweets at his local shop.
He remains critically ill in hospital and has sustained several broken bones, including fractures to his neck.
Ms McDermott said she was "going though hell" and pleaded for information.
The collision happened at about 15:00 GMT on 29 January, and is believed to have involved a light-coloured Honda CRV 4X4 vehicle.
Speaking to the BBC's Evening Extra programme, Ms McDermott said Joseph had gone to the shop just across the street from her family home, something he did on a regular basis.
"He took longer than usually so I went to see what was keeping him and somebody in my street said that a wee boy had been knocked down and instinct just told me it was him. I ran round and the rest to me at the minute is a blur," she said.
Surgery
Ms McDermott arrived at the crash site shortly after the ambulance had taken her son away.
"I'm still going through hell, He's a very, very, very ill wee boy," she told the programme.
She said Joseph has sustained broken bones in his neck, two broken arms and a broken leg. His ribs and ankle have also been fractured.
He has already undergone surgery, but his mother said her "main concern" at the moment is his neck injury.
She said doctors are planning to fit him with a "halo" medical brace to protect his neck from movement.
"He's heavily sedated because we can't have him moving, which is very hard to watch," Ms McDermott said. "At the minute it's just a waiting game.
"My main focus at the minute is getting my son better. Those details, to me, aren't what I am concentrating on."
"The police are just asking me to make my own appeal for witnesses," she told the programme.
Ms McDermott said she had good support from her family and her father is liaising with the police because "at the minute I can't really deal with this".
She added: "I just want to ask anyone who was in the area and noticed him to please just contact - no matter how small the detail is - to just please contact Grosvenor Road police station."