Glenravel group drives down heating oil price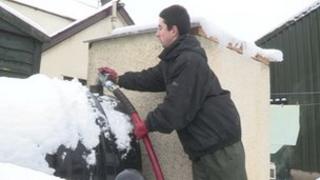 A community in County Antrim is driving down the price of home heating oil by maximising local buying power.
More than 100 households in the Glenravel area are taking part in an oil buying club.
Members send their order each month by text, phone or email.
They can also place their order in some local shops. Suppliers are then asked to submit their best price for the bulk delivery.
The oil company saves on transport and labour costs, savings they can pass on to the customer.
The pilot scheme has been running since last October.
Glenravel resident Suzanne Scullion is one of those volunteering to co-ordinate the project. She is a single mum and said she was already making significant savings.
"For me I have that extra £30 or £40 for groceries or clothes for my wee boy or me or to put into savings rather than giving it to somebody that doesn't need it," she said.
The scheme is a pilot developed by a cluster of seven councils across mid and east Antrim and the Causeway Coast and Glens area.
Start-up funding was provided by the Public Health Agency but the chair of the council cluster, Anne Donaghy, said the club was essentially run by the community.
"I think the strength of this is that it is a community identifying their issues and the solutions… and I am very confident that this will be a scheme that will remain for many years because it is owned by and run by the community," she said.
It is reckoned that participating households have saved an average of £100 in the first three months of the scheme, although those buying smaller quantities are likely to see more savings than those placing larger orders.
'Very willing'
Karen Bruce from Ballymena Borough Council was heavily involved in starting up the project in Glenravel.
She said oil suppliers have been very willing to participate and the large orders have forced them to be more competitive.
"They have to be more competitive, but they realise they are also making savings themselves… on average each month they (the Glenravel oil club) are ordering 10,000 litres and for example last month they saved 2.5p over and above the best price possible," she said.
The elderly are a group often identified as at risk of falling into fuel poverty.
This scheme is designed to help them out financially and also increase their contact with others in the community.
Pensioners meeting at Glenravel's 'Young at Heart' senior citizens group are all very positive about the scheme including Gerry McGinty.
"This scheme is of great benefit to us old people and to be honest with you I just could not have done without it and I don't intend to do without it. It's great savings altogether for the people of this village," he said.
Apart from the potential financial benefits of the scheme Suzanne Scullion said she feels happier ordering smaller quantities of oil given the amount of oil theft.
"I have had my oil stolen twice since I moved out of home with my mum and I didn't want to buy large quantities of oil so I was maybe only ordering 200 litres a time," she said.
"If I was ordering on my own I would be paying £160 but now I can get it for £116."
Plans are now under way to extend the scheme and encourage other communities within the council cluster to set up their own oil clubs.
A small grant scheme will be made available to help with start-up costs later this month.