Hopes high for all-island children's heart service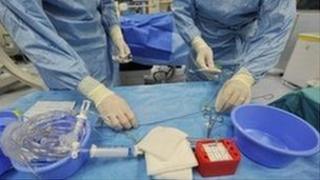 Plans for an all-island children's cardiac service are probably further forward than most people think, the Fine Gael MP for Donegal has said.
The future of children's surgery at the Royal Hospital for Sick Children is under threat following an inspection.
Joe McHugh TD said health departments on both sides of the border were more than committed to working together.
He said a spirit of generosity existed between health officials to share services.
Mr McHugh was asked if he had to persuade the Irish health minister to buy into a cross-border children's cardiac service.
"I think we could be closer than most people would expect in relation to an arrangement with Crumlin Hospital (in Dublin)," he said.
"It's important that best travel arrangements are made and if it's a case that patients in Northern Ireland can be driven down the M1 and avail of the services in Crumlin, I think there is a collective spirit of generosity that, yes, that is the right way to go."
Following the national review of children's cardiac services, the future of the surgical unit at the Royal Hospital for Sick Children is uncertain with sick children having to travel to England or Dublin.
While parents want the unit to remain in Belfast, they say travelling to Dublin would be the second best option.