Northern Ireland assembly to put Antarctic powers on ice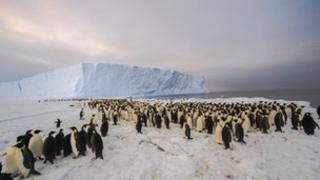 The NI assembly has had the power to regulate expeditions and environmental matters in Antarctica - and the Foreign Office wants it back.
The Executive won't be putting the request on ice.
The powers were inadvertently transferred to Northern Ireland and the Scottish Parliament at devolution.
The mishap was revealed when officials from the Office of the First and Deputy First Minister briefed the assembly's committee.
Neill Jackson explained the problem to bemused MLAs.
He told them the Executive has agreed to let Westminster have the power back and the First and Deputy First Ministers have drawn up a memorandum to that effect.
Emergencies
The problem came to light when Westminster went to amend the Antarctic Act of 1994. This was passed to implement a protocol on environmental protection following an international treaty. The treaty permits and regulates all British expeditions, as well as visits by UK nationals to the region and applies to the UK as a whole.
Recently it became clear that Westminster no longer had the power to add a new annex to the protocol. This relates to environmental emergencies in Antarctica and includes proposals to enhance protection for marine plants and invertebrates.
When the 1998 Northern Ireland Act was drawn up, the regulation of activities should have been omitted from the assembly's powers.
So now the matter is "technically devolved" - although the relevant functions have not and no government department has any legislative powers regarding Antarctica. That would require an assembly bill.
But, in the interests of a "coherent" approach, MLAS were told the UK government now wishes to rectify the matter.
Mr Jackson told the committee that Scotland has already done so, adding: "The first and deputy first ministers believe there is no compelling reason to argue for the continued devolution of Antarctic matters..."
Chris Lyttle, the Alliance MLA, asked committee members if there were any objections.
One MLA responded: "Chair, I think we will all sleep easier in our beds at night whenever this is put right."
"No strategic interest on Antarctica then?" Mr Lyttle inquired, to be sure.
"Not even a selfish interest," added another MLA.
Having solved that issue, the committee then moved on to parades which rather raised temperatures in the room.