Accor hotel plans for Belfast falter over flags protests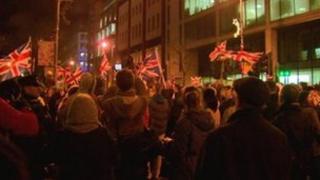 A major hotel development in Belfast city centre could be abandoned due to the continuing loyalist flags protests.
Joe Jordan, president of Belfast Chamber of Trade and Commerce, said French firm, Accor, wanted to pull out of the planned hotel on Dublin Road.
An Accor spokesman said: "We can confirm that Accor will be opening a third hotel in Belfast this summer and has other development projects."
Accor also has planning approval for another new hotel in Belfast, an Etap.
The spokeswoman could not clarify which hotel is opening this summer.
Mr Jordan told the assembly's enterprise committee the threat to the hotel plan was "purely based on the last nine weeks".
Mr Jordan blamed perceptions encouraged by media coverage of street protests.
"If you listen to the media, next to Syria is Northern Ireland," he said.
On Monday 3 December, Belfast City Council voted to fly the union flag at city hall only on designated days.
Nationalists at Belfast City Council had wanted the union flag taken down altogether, but in the end voted on a compromise from the Alliance Party that it would fly on designated days.
Unionists said they considered the changes to be an attack on their cultural identity.
A loyalist protest outside the building erupted into violence minutes after the motion was passed. Disorder also broke out in east Belfast.
Since then there have been a series of protests across Northern Ireland, some of them have been violent with more than 100 police officers injured and several people arrested.