NI Fire Service: Terry McGonigal resigns from senior position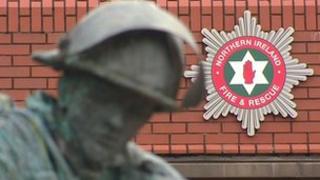 The BBC understands that a senior member of the Northern Ireland Fire and Rescue Service has resigned.
The organisation has been at the centre of a major investigation by the Department of Health and the Public Accounts Committee.
Terry McGonigal was director of finance in the fire service.
He has been off on sick leave since December. His position has been temporarily filled by an agency worker.
In the past year the service has been the subject of three investigations following allegations of financial irregularities.
During a health committee hearing last year, the chief executive of the Fire Service Jim Wallace confirmed that Mr McGonigal's name had been withheld from an audit report following whistle blowers' allegations.
On Thursday, Mr Wallace emailed fire service board members informing them that he had received Mr McGonigal's resignation. No reason was given for Mr McGonigal's decision.
The email said senior management would be looking at the implications of the resignation for the fire service.
Kevin McAdam, of the trade union Unite, said: "Mr McGonagle has decided to leave the Northern Ireland Fire and Rescue Service of his own choice.
"Terry was not under any investigation or facing any charges within the service in relation to any of the stories in the media recently and would totally refute any allegations of that nature at any time during his career in the service."