Hazel Stewart 'played willing role in double murders'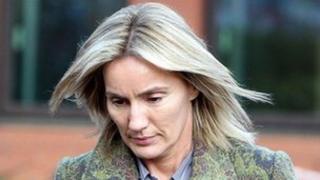 Double killer Hazel Stewart was a "knowing and willing" participant in the plot to murder her husband and her former lover's wife, the Appeal Court has ruled.
Three senior judges found that the assistance she gave killer dentist Colin Howell showed her backing for the plan to get rid of their spouses.
Stewart, 49, was jailed for at least 18 years in 2011.
She was convicted of murdering Trevor Buchanan and Lesley Howell.
Her husband and her former lover's wife were found in a fume-filled garage in Castlerock, County Londonderry, in May 1991.
Police originally believed the victims had died in a suicide pact after discovering their partners were having an affair.
But in fact they were murdered before their bodies were arranged to make it look like they had taken their own lives.
Nearly 20 years passed before Stewart's former lover, Colin Howell, 52, suddenly confessed to both killings. He pleaded guilty to the murders in 2010 and is serving a minimum of 21 years in prison.
Stewart was convicted of the double murders by a unanimous jury verdict at Coleraine Crown Court in March 2011.
In January, the court refused Stewart's appeal for the murder of Lesley Howell. Stewart had already dropped her appeal for murdering her husband.
In court on Friday, setting out the reasons for turning the appeal down, the judges said that the assistance Stewart gave Howell showed she backed the plan to get rid of their spouses and to allow their relationship to continue.
Lord Justice Girvan detailed how she helped Howell by allowing him into her home to kill her drugged husband, by disposing of a hose pipe used to gas their spouses, by cleaning up the murder scene and by providing false alibis to police.
"The continuation of the relationship with Howell after the death provided further material from which the jury could infer that the deaths of both Lesley Howell and Trevor Buchanan were the result of a clear understanding on the part of the applicant that the murders were part and parcel of a joint plan to remove the parties' spouses from the scene to facilitate their ongoing relationship," he said.
"There was strong evidence upon which a jury could conclude that the applicant was a knowing and willing participant in the plan hatched by Howell to dispose of both the deceased victims."
The judge stressed that a defendant could be found guilty without actually carrying out a murderous act. Encouragement, incitement and physical assistance can all show active involvement, he said.
Stewart appeared by video link from Hydebank Prison to learn why her appeal failed.
After Friday's hearing, Stewart's lawyer confirmed there was no challenge to the minimum 18-year prison sentence. But he sought to clarify his client's position over the abandoned part of her challenge.
"In not pursuing the appeal in relation to the conviction of the appellant for the murder of Trevor Buchanan, there was not an acceptance by the appellant of her guilt in relation to that conviction," he said.